Scholarship Opportunities
We believe all riders should have access to our programming, regardless of socio-economic status. If you would like to attend but, cannot afford the event fee then please apply for a scholarship here:
Age Limit
We welcome all kids ages 5-18 for our mountain bike courses. Certain events allow for younger riders such as ones on a balance bike (with parent assistance), please see the event specifics.
Ability Level
Levels Explained!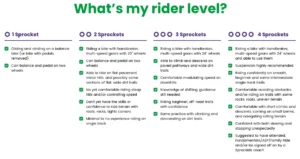 Gear Requirements
Helmet – A bicycle helmet is required. It must fit snugly on the rider's head. The rider's forehead shall not show more than two finger widths above the eyebrows. The chin strap should be snug up under the chin.
Snack and water – We recommend you bring a snack. For trail rides, a bike-mounted water bottle or hydration pack is required.
Clothing – Closed toed shoes are required. Please dress your rider in exercise type clothing that is suitable for the weather.
Pads – Elbow and knee pads are not required but highly recommended.
Scheduling and Time
Please see the event specifics. If there are changes in the time or location we will reach out to all registered participants.
Waivers
Please review our waivers and policies at checkout. Agreement to our waivers are required for participation in all events.
Walk Ups
We do not have walk up registration. Please register through this website.
Parent Participation
Parents, join us! Sprockids offers an incredible opportunity to participate and learn alongside your child. Our events are fun for the whole family, we promise you too will learn a ton about biking FUNdamentals. All of our clinics and rides, except for the after school program are open to parents, please grab a ticket. The after school program is kids only but, parents are invited to join us on our trail rides during the second half of the program. A ticket is not needed, just tell our coaches so we can get you a waiver.
Need More
Information?
Please reach out! We are always happy
to answer any questions you may have.